All investments rely heavily on the psychology of the individuals involved.
Bubble Psychology
The psychological phases of those involved in bubbles.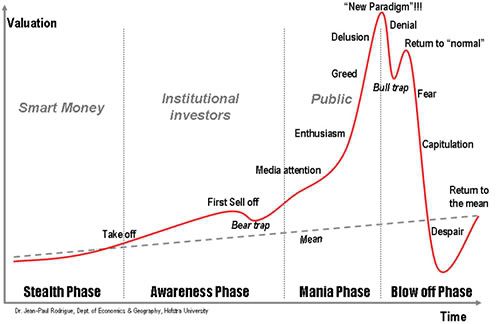 We all go through emotional phases: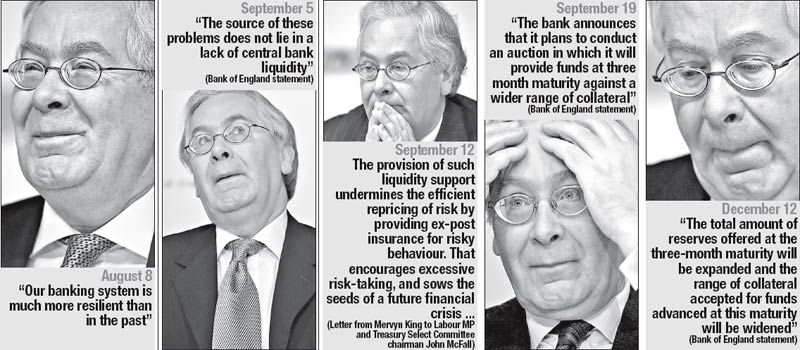 Denial
QUOTE
Denial (also called abnegation) is a defence mechanism postulated by Sigmund Freud, in which a person is faced with a fact that is too uncomfortable to accept and rejects it instead, insisting that it is not true despite what may be overwhelming evidence. The subject may deny the reality of the unpleasant fact altogether (simple denial), admit the fact but deny its seriousness (minimisation) or admit both the fact and seriousness but deny responsibility (transference).
http://en.wikipedia.org/wiki/Denial
Cognitive dissonance
QUOTE
In psychology, cognitive dissonance is an uncomfortable feeling or stress caused by holding two contradictory ideas simultaneously. The theory of cognitive dissonance proposes that people have a fundamental cognitive drive to reduce this dissonance by modifying an existing belief, or rejecting one of the contradictory ideas.
....
This can result in rationalization when a person is presented with evidence of a bad choice, or in other cases. Prevention of cognitive dissonance may also contribute to confirmation bias or denial of discomforting evidence. If not corrected, this can lead to further bad choices for the sake of consistency, rather than learning from mistakes.
http://en.wikipedia....tive_dissonance
The Stages of Grief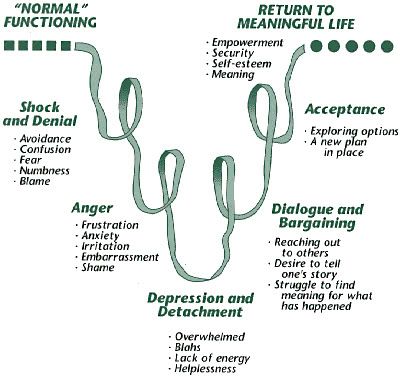 QUOTE
Markets are the collective actions of individuals, and the psychology of the markets can be broken down to the psychology of the individual participants who make it up.

When prices first drop and the market enters the denial stage, the individual market participants feel confusion and attempt to avoid the truth. This is motivated by fear they may have been wrong to purchase when they did, and they might lose money. They seek ways to quell these fears through drinking even more kool aid. Bulls in the denial stage will not come to a blog like this one because we will not feed their denial. Some will stop by, try to convince us we are wrong, and move on. The only person they are really trying to convince is themselves.
From this comprehensive article on bubble psychology:
http://www.irvinehou...ref=patrick.net
Groupthink
QUOTE
Groupthink is a type of thought exhibited by group members who try to minimize conflict and reach consensus without critically testing, analyzing, and evaluating ideas. During groupthink, members of the group avoid promoting viewpoints outside the comfort zone of consensus thinking. A variety of motives for this may exist such as a desire to avoid being seen as foolish, or a desire to avoid embarrassing or angering other members of the group. Groupthink may cause groups to make hasty, irrational decisions, where individual doubts are set aside, for fear of upsetting the group's balance. The term is frequently used pejoratively, with hindsight.
http://en.wikipedia....wiki/Groupthink
Panic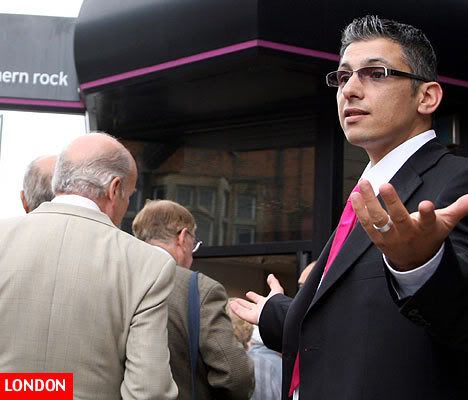 Despair
Resignation