This thread is created from posts originally on the gold thread after this post:
http://www.greenener.......ost&p=51628
-----------------------
I've recently had someone on another forum insisting that gold is a commodity.
That inspired me to look at the history of gold and create this chart, to make the point that our fiat money system, and "gold is a commodity" paradigm is quite a short one.
I've added it to the basic guide, but would appreciate any critical comments or suggestions for improvement.
My aim was to have something with which to explain in a really simple graphical way why I think gold is money
--------------
The History of Gold
There is a tendency to ignore history. We do so at our peril.
We also tend to think only recent history is relevant. This is misguided.
This is the history of gold: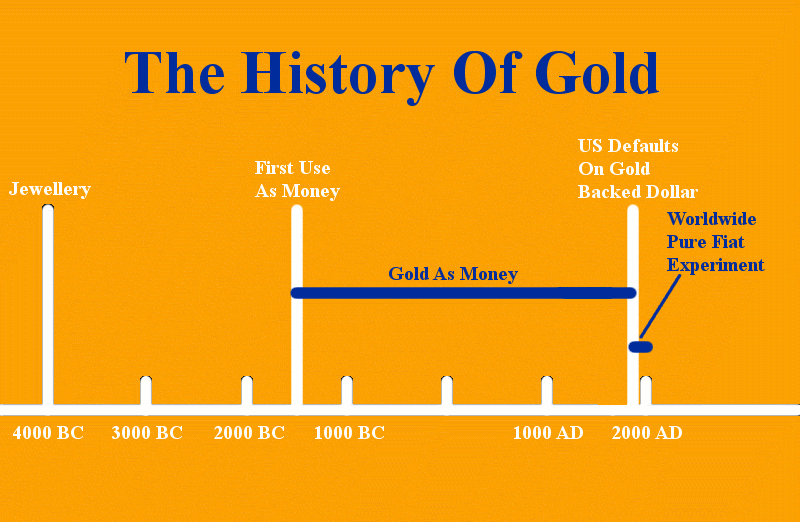 Jewellery
4000 BC - A culture, centered in what is today Eastern Europe, begins to use gold to fashion decorative objects. The gold was probably mined in the Transylvanian Alps or the Mount Pangaion area in Thrace.
First Use As Money
1500 BC - The immense gold-bearing regions of Nubia make Egypt a wealthy nation, as gold becomes the recognized standard medium of exchange for international trade.
The Shekel, a coin originally weighing 11.3 grams of gold, becomes a standard unit of measure in the Middle East. It contained a naturally occurring alloy called electrum that was approximately two-thirds gold and one-third silver.
China
1091 BC - Little squares of gold are legalized in China as a form of money.
Great Britain
1066 AD - With the Norman conquest, a metallic currency standard is finally re-established in Great ritain with the introduction of a system of pounds, shillings, and pence. The pound is literally a pound of sterling silver.
1284 AD - Great Britain issues its first major gold coin, the Florin. This is followed shortly by the Noble, and later by the Angel, Crown, and Guinea.
1377 AD - Great Britain shifts to a monetary system based on gold and silver.
US
1787 AD - first U.S. gold coin is struck by Ephraim Brasher, a goldsmith.
Default
1971 AD - On August 15, U.S. terminates all gold sales or purchases, thereby ending conversion of foreign officially held dollars into gold.
References:
The History of Gold - National Mining Association
http://www.nma.org/p...old_history.pdf