Old Title:
Tracking the Amount of Gold/Silver Stored
Merged with:
How Much Gold Remains In Fort Knox [ NOT MUCH??? ]
Started by Acton Boy, 18 Aug 2010
=======================================
I know some have posted information on gold inventories (the amount of gold held). I wanted that for my recent answer but couldn't find it.
Could we keep a track of them here ? style_emoticons/default/biggrin.gif
One source is Jim's site for
ETFs
11th July 2008: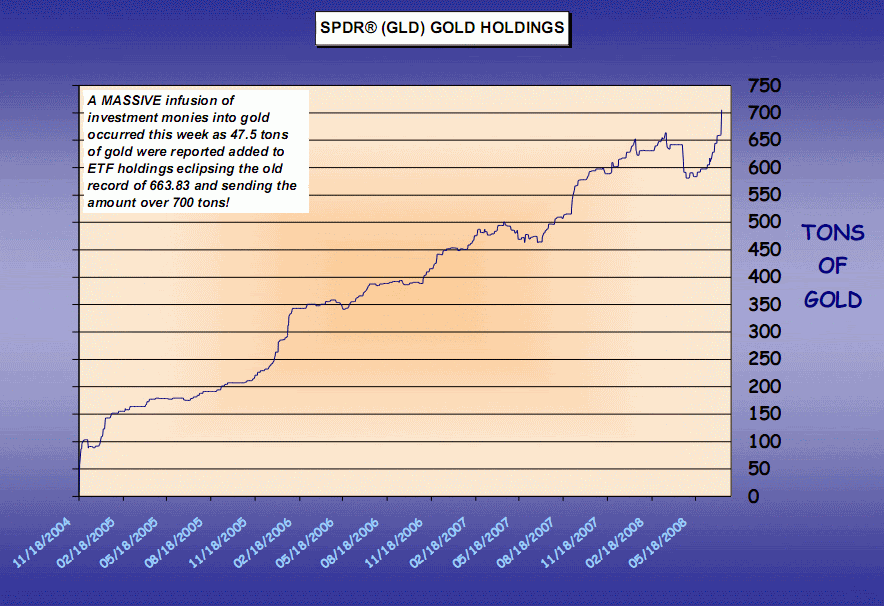 Gold Money
Current stocks of gold and money in accounts is available here:
http://www.goldmoney...rt-monthly.html
kg = kg gold, soz = silver oz
Date ---------- kg ------------ soz ----------- Cash
30/04/2008: 7,528kg 6,913,100soz US$30,363,878
31/08/2008: 8,544kg 9,090,053soz US$14,783,017
You can get a much longer record from the audit scans here (for gold and silver):
http://www.goldmoney.../en/report.html
which takes you here:
http://www.goldmoney.../bar-count.html
If anyone wants to collect the data ?
Bullion Vault
It is available here:
http://www.bullionvault.com/audit.do
Date ----- Kg Gold - Cash: - US$ ----- EU ------- GBP --------
01/08/2007: 3500kg
01/01/2008: 4906kg
17/01/2008: 5136kg US$9,259,658 EU3,326,113 £8,296,953
23/01/2008: 5357kg US$13,800,959 EU3,853,177 £7,832,031.98
08/02/2008: 5908kg US$6,951,230 EU3,892,929 £6,811,793
31/03/2008: 6828kg US$8,172,452 EU4,130,662 £7,980,284
11/04/2008: 6753kg US$9,425,495 EU4,748,511 £8,012,199
03/05/2008: 7040kg US$7,825,616 EU3,085,488 £8,272,182
15/05/2008: 7141kg US$7,461,736.05 EU3,339,112 £7,755,071
Notes: There was a withdrawal of 185kg of gold (ie out from safe to the owner) during April, so the April dip was not actually a gold sale.