G0ldfinger/Steve Netwriter - why hold silver also?

Are you thinking that silver may rise more or quicker than gold - apologies if that is an old question.

Safebetter.
Yep, silver is more volatile. So bigger gains, but to avoid suicide, IMO only part of your PM holdings.
Also, the public attention is on gold, and I've read that silver lags gold because the attention starts on gold, and then when that's gone up, people look for a cheaper alternative. And that's when silver really rockets.
I've also read an article which suggests silver is now less owned, and maybe due a comeback.
The potential is HUGE. So IMO worth a punt of say 10% to 20% of your PM portfolio.
I'll hunt out a few memorable articles for you.......
Deep Into The Danger Zone
By: Theodore Butler & Israel Friedman
http://news.silverse.../1203445598.php
Please sit down before reading these numbers.
Gold Breaks New Record - Public Waking Up!
http://www.marketora...rticle3775.html
As Mike Maloney has been shouting from the rooftops: "This is not the time to be in stocks or non cash-flowing real estate. As investors we are in the rare situation where the safest investment (the investment that has been a valued form of wealth for over 5,000 years) is also the investment that history says will offer the greatest potential gains in the upcoming years."

Since this huge shift in the foundation of investing gold has increased 3.36 times and silver 4.24 times. The amazing thing is that history shows we are not even close to being done with this cycle.

His forecast? $6,000 gold and $600 silver by 2016. Nope, that was not a typo (and that is even using his conservative formula).

Sounds crazy right? But would you have guessed $900 gold was just around the corner when the price was less than $300? This same mentality happens in every bull market. People just can't believe that the investment that the cycle is favoring is going to keep going up until the investors all decide at once that it must be for real and then it becomes the "can't lose investment." This is when the public rushes into the investment that had been going up steadily and drives the price vertical. This happened in tech stocks in the late 1990's and more recently in real estate.

Of course if you look back even further you find history repeating itself yet again. In 1970 gold was $35 an ounce and in 1980 in had risen to $850 an ounce turning every $10,000 into over $230,000. Of course gold then went into its down cycle from 1980 to 2000 but the clock kept turning, as expected, and we are in the upwave precious metal cycle again. These cycles just repeat over and over and are one reason why some people are able to predict the correct investments to be in while others sit in yesterday's investment just hoping they will come back up.

As these precious metal prices hit record after record the general public start to wake up to this sector when they see it on the news night after night. These are the folks who really light a fire under an investment when they try to jump on it in increasing numbers. This period for the precious metals is just starting now.
That silver prediction sounds completely outrageous.
Silver is currently ~$18/oz. $600/oz is 33x more !!!
So $10,000 would become........................................... $330,000
Why the silver price is set to soar
http://www.moneyweek...et-to-soar.html
Demand Building for Gold and Silver as Currency of Legal Tender for Merchant Services
http://www.marketora...rticle3833.html
This might be one of the definitive articles. It certainly covers a lot of the main points.
This article covers the long-term gold/silver ratio.
And the use and supply of silver.
It was written in 2003.
THE GOLD/SILVER RATIO STRATEGY
& THE CASE FOR SILVER
Franklin Sanders
http://www.gold-eagl...ders030703.html
Since 1990 fabrication demand has averaged 156% of yearly mine production. For every ounce of silver the mines produced, industry consumed one and a half ounces of silver.
Keep one thing in mind: the key to the silver price is monetary demand. Other categories of demand alter only slowly over time due to technological or economic changes. Supply-demand imbalances in commodities can persist for a surprisingly long time without moving the price sharply. In the past decade, the price of silver has been practically flat, with a few spikes, because monetary demand has been absent. Strong, sustained silver moves occur when many people decide suddenly they want silver because it is money. Today, when stocks, currencies, bonds, and other paper assets have begun to disappoint investors, investor attitudes are shifting. What begins as a trickle ends as a tidal wave when the panic peaks. When public revulsion at the US dollar begins, the tidal wave will become a tsunami. Silver, far more volatile than gold, will benefit most.
In the 1960 - 1980 precious metals bull market, gold rose from $35 to $850, a 2,429% increase. At the same time silver rose from 90 cents to $50, a 5,556% increase. Silver rose 2.3 times as fast as gold.

What is the obvious reason for silver's greater volatility? Compared to gold silver is a tiny market, so the same amount of money drives silver much higher. That's why you expect to see silver rising faster than gold in a bull market - the ratio ought to be trending down as both metals rise.
That's not a misprint. 90c (yes cents) to $50 (dollars).
Based on year end average prices, the 1792-2002 mean ratio is 31.32. If the ratio merely returned to that mean over the bull market's course, silver would rise about 2.4 times faster than gold. However, based on the extreme ratio swings of the last 125 years, and the ratio's drop in the last precious metals bull market, I believe it is safe to speculate that the ratio will drop much, much lower than the 200 year mean. In fact, my target is 16:1, the bottom of the last bull market.
Never skew your portfolio more than 70% to silver. That is, at current market value you should never have more than 70% of your total investment in silver. Keep the other 30% in gold. Always take delivery of your physical metal. Never leave silver in storage with any dealer.
This chart shows the gold/silver ratio. The mean is 31.32.
This article suggests silver is VERY undervalued compared with gold.
Just check out the per capita amount of silver in the 2nd table !
The Real Gold/Silver Ratio Part II
By: Theodore Butler
From 2006.
http://news.silverse.../1161705933.php
I've copied the table for you:
What this table tells us is that, on a per capita dollar basis, the world's citizens have never owned more gold or less silver than they do today. The world's citizens own more than 35 times more in gold, expressed in dollars, than they owned 106 years ago. Yet at the same time, the world's citizens own less than 40% of dollar-denominated silver than they did 106 years ago. Once again, these figures should shock you, just as they shocked me. And please remember, this is also an apples to apples comparison.
.
.
Some might suggest that the great value disparity between gold and silver points to the realization of the superiority of gold as the one true money. Perhaps. But why is this disparity showing up only against silver? Gold compared to the other precious metals (platinum, palladium, rhodium, iridium), the base metals, oil, broad commodity indices, real estate or the stock market, does not suggest a gold overvaluation. As I said, this is severe silver under valuation, not a gold over valuation.
This is a great chart: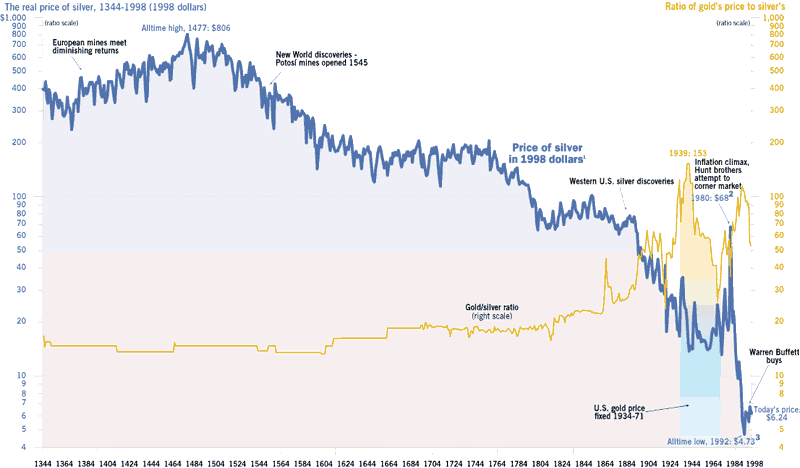 This is a 600 year graph of silver prices and silver/gold ratio from 1344 to 1998 as shown in 1998 dollars.
from:
http://goldinfo.net/silver600.html
The Real Deal
By: Theodore Butler
26 February, 2008
http://news.silverse.../1204056208.php
Warnings about not buying REAL ALLOCATED silver. Silver you know exists, and is owned by you.
While I have intentionally tried to deliver this message as a warning, so that innocent silver investors can avoid a nasty potential surprise, there is an almost unspoken upside if enough investors follow my advice. Because I am convinced there are more than a billion ounces of silver tied up in unbacked silver certificates and storage schemes, if only a small percentage of those investors, say 5% or 10%, switch to storage programs holding real silver with serial numbers, the impact on the price of silver could be profound. All other things being equal, such an amount of switching could cause a doubling in the price of silver, in my opinion.