Dr.B's Trading Diary : 2017.    The Diary's 9th Year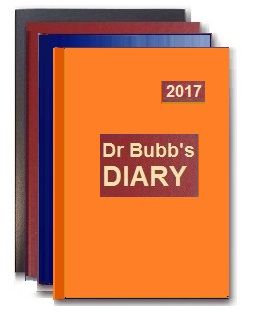 "His Best Speech yet" / President Trump Full Speech to Congress 2/28/17
:

: "A Year of Growing Discernment" ?
THAT was 2016. Now we are in 2017:

DrBubb's Diary - Mar. 2017 Trading - v.98
================
The Fed's Racetrack: Gold (GLD) vs Stocks (SPY) ... update :vs.CRB : GLD-hr : SPY-hr : GLD/SPY-Ratio //: sjw :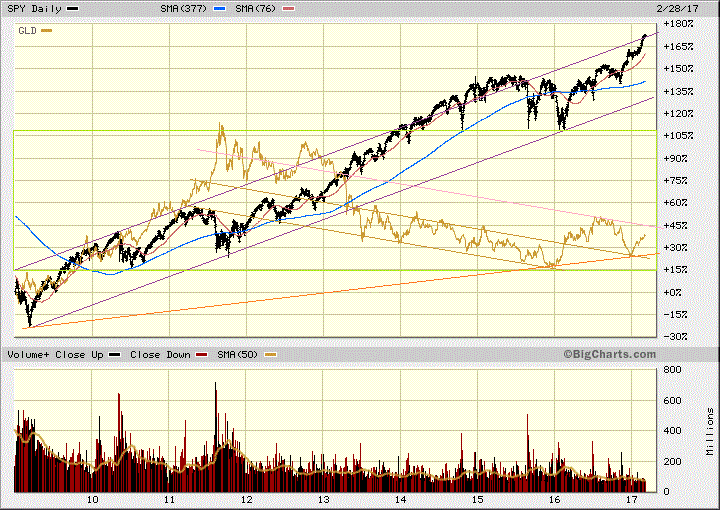 The Fed's money-printing has maintained confidence in markets - but the money has gone not only into stocks, but also into other areas. For many months, money flowed into commodities like Gold, pushing prices higher even faster than stocks, as the chart above shows. But since Gold's peak in Aug.2011, stocks have outperformed gold. These two have often traded counter-cyclically to each other.
"US Stocks-in-Euros" ... SPX-to-FXE or SPY-to-FXE Ratio ... update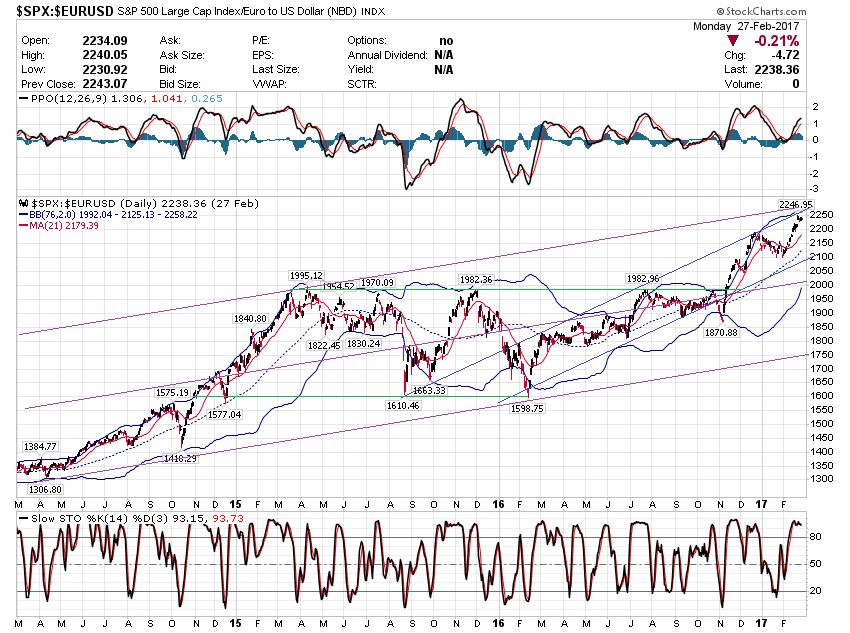 This Ratio - SPX to Euros seems to move in a nice clear channel
DrBubb's "Early Warning System"

Leading Ratio ... LQD:TLT-Weekly-3yrs : TLT-vsLQD : Copper : HG price : CU price : SPY-10/11 : SMH-6mos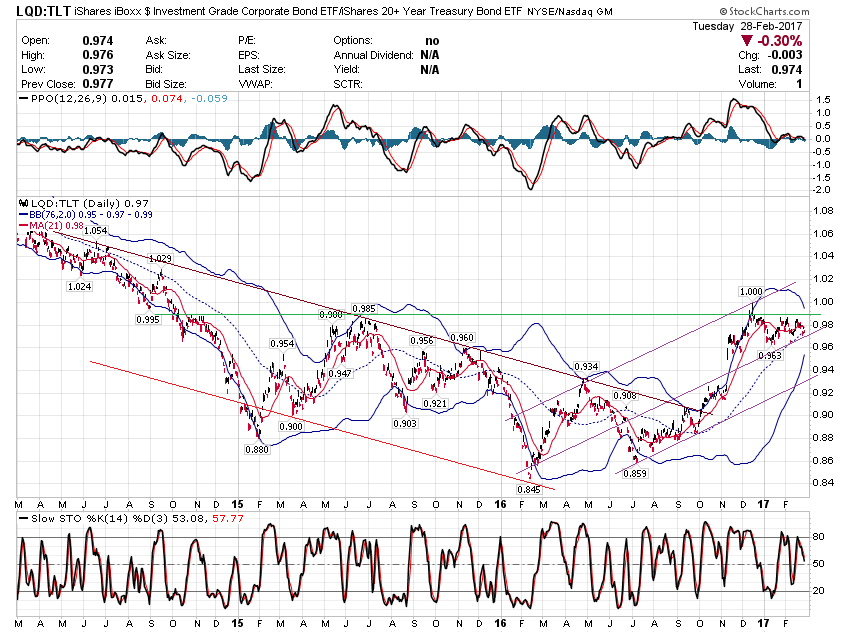 I reckon that the LQD-to-TLT ratio should move in harmony with stocks, or maybe LEAD stock moves. If they are moving in different directions, then one should be cautious.  By the end of 2014, we saw a FULL YEAR of decline in this would-be bellwether, yet SPY has gone on rising.  So the value of this indicator has become suspect.
=====
Bullish Percentages :
BPNYA- : http://stockcharts.c...!Lh14,3]&pref=G
BPGDM : http://stockcharts.c...!Lh14,3]&pref=G
NASIT - : NAMOT : Summation Indices

"Big Three" Charts (SPY, GLD, DXY) ... 10d-Intraday : 6mos-D : 2yrs-D : 5yrs-D // CUvsGLDvsCRB
RECORD : CU may lead GLD and SPY lower
======
US Fed'l Debt // Formula:  (Fed'l Debt - $4.0 Trillion ) x 119 +$100
Date-: DebtTr > G.Eqv /10.40 : - GLD - : - SPY - : -DIFF- : - ratio - : -- CU -- : cu/gld : - FXI - : cu-fxi : - DBA- : - BTC - :
end07: $09.23 > 0,722 : 072.2 : $082.46 : $146.21 : -63.75: 56.398% : $20.0e: XX.X% :: $ 17.05: ==== : $ 32.99 :
end08: $10.70 > 0,897 : 089.7 : $086.52 : $090.24 : -$3.72: 95.878% : $20.0e: XX.X% :: $ 29.09: ==== : $ 26.18 :
end09: $12.31 > 1,089 : 108.9 : $107.31 : $111.44 : -$4.13: 96.294% : $30.0e: XX.X% :: $ 42.26: ==== : $ 26.44 :
end10: $14.03 > 1,294: 129.4 : $138.74 : $125.75 : $12.99: 110.34% : $43.71: 31.51%: $ 43.09: $0.62: $ 32.35 : $ 00.29 :
end11: $15.22 > 1,435: 138.0 : $151.99 : $125.50 : $26.49: 121.11% : $29.29: 19.27%: $ 34.87: - 5.58: $ 28.88 : $ 04.60 :
end12: $16.43 > 1,570: 151.0 : $162.02 : $142.41 : $19.61: 113.77% : $30.34: 18.73%: $ 40.45:-10.11: $ 27.95 : $ 13.48 :
end13: $17.35 > 1,689: 162.4 : $116.12 : $184.69 : -68.57 : 062.87% : $22.27: 19.18%: $ 38.37:-16.10: $ 24.25 :$815.00 :
end14: $18.14 > 1,783 : 171.4 : $113.58 : $205.54 : -98.04 : 55.26% :: $18.09: 15.93%: $ 41.62:-23.53: $ 24.89 :$316.20 :
end15: $18.83 > 1,865 : 179.3 : $101.46 : $203.87 :-102.41: 49.77% :: 2.135 : 2.140%: $ 35.29:-00.00: $ 20.61: $433.50 :
end16
(2016)
01/29: $19.01 > 1,886 : 180.0 : $108.05 : $193.65 : - $85.60: 55.80% :: 2.060 : 1.907% $ 31.20:-00.00: $ 19.99: $375.00 :
02/29: $19.13 > 1,900 : 181.3 : $118.64 : $193.56 : - $74.98: 61.29% :: 2. ??? : 1.000% $ 30.00: -00.00: $ 20.00: $434.00 :
03/31: $19.26 > 1,916 : 182.8 : $117.64 : $205.52 : - $87.88: 57.24% :: 2. ??? : 1.000% $ 33.77: -13.17: $ 20.60: $415.00 :
04/30: $19.0E > 1,885 : 181.3 : $123.65 : $206.33 : - $82.68: 59.93% :: 2. ??? : 1.000% $ 33.53: -12.45: $ 21.08: $4 ??.00 :
05/31: $19.0E > 1,885 : 181.3 : $116.06 : $209.84 : - $93.78: 55.31% :: 2.080 : 1.792% $ 33.65: -12.34: $ 21.31: $526.10 :
06/30: $19.0E > 1,885 : 181.3 : $126.47 : $209.48 : - $83.01: 60.37% :: 2.0 ?? : 0.000% $ 00.00: -00.00: $ 00.00: $0
07/31: $19.0E > 1,885 : 181.3 : $128.98 : $217.12 : - $88.14: 59.40% :: 2.0 ?? : 0.000% $ 00.00: -00.00: $ 00.00: $0
08/31: $19.0E > 1,885 : 181.3 : $124.78 : $217.38 : - $92.60: 57.40% :: 2.080 : 1.667% $ 37.08: -16.85: $ 20.23: $570.00 :
=====
ye'16 : $20.0E > 1,8 xx : 18x.x :
 
Date-: DebtTr > G.Eqv /10.40 : - GLD - : - SPY - : -DIFF- : - ratio - : -- CU -- : cu/gld : - FXI - : cu-fxi : - DBA- : - BTC - :
======
The FED must be pleased with the way that money has flowed into stocks, away from Gold. / notes : a b cox cvn