Olympic Station / and Tai Kok Tsui, Kowloon
=================
The area near Olympic station consists of an Old and New part.
With the New part = to the West / Old = to the East ... of the MTR station.
"Old TKT" to the East of Olympic is changing fast
:
: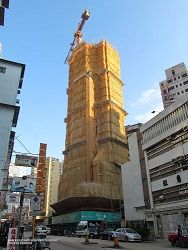 :
Park Ivy is at the corner of Ivy & Pine Street.
On the west side (to the left of the station) is the newer part 
which is on landfilll and also on landfill is to the South of Old TKT
on Hoi Wang Road which is a sort of continuation of Pine St. Hoi Wang Road is the
connection to lower West Kowloon and the XRL.

:

Hermitage: at the top of the Grand Chamber

The Old part of TKT (surrounding the so-called "Ivy St. and Pine St bend") is being gentrified ... Larger map
Olympic MTR Station (blue rectangle and red dot) is in the lower Left corner, and there is a covered walkway
running North from the MTR station, and terminating at the West ending of Ivy Street, the old Main St. of TKT.
Map of Old Tai Kok Tsui / TKT ... Map with fewer labels
====


The new buildings in the Olympic Station area are mostly built on landfill
- to the North of the area where the Express Rai to China (XRL) and WKCC are being built :
Spending by the well off residents living in these new skyscrapers are feeding the ongoing gentrification,
and making the old neighborhood nicer for everyone. Longer term, the proximity to the Express Train to China,
should bring a continuing long term improvement.
TKT MAP : highlighting Landfill areas - Ivy St. (brown) and Pine St / Hoi Wang Rd. (blue) : fewer lines
=======
: GOOGmap
/ source: http://www.chinatour...Kowloon-Map.jpg
MTR Map -- Larger map and source (also shows SZ connections)
========


Olympic / TKT is North of Kowloon's most transformative development, the XRL station, and WKCC

WEST KOWLOON Cultural Centre (WKCC), what's coming



Dec. 2011 Plan : Enlarged image : ( That park in the lower left is not central enough, to be optimally useful IMHO)


/source: http://www.urbanphot...r-west-kowloon/
XRL Kowloon thread :: http://www.greenener...showtopic=17597
MTR Map (incl. SZ) - :: http://johomaps.com/.../hkmetro_ch.jpg
AX thread on TKT --- :: http://hongkong.asia...ion-tkt-thread/
===
LINK to here :: http://tinyurl.com/GEI-TKT