Dubai Property Index - & other price indicators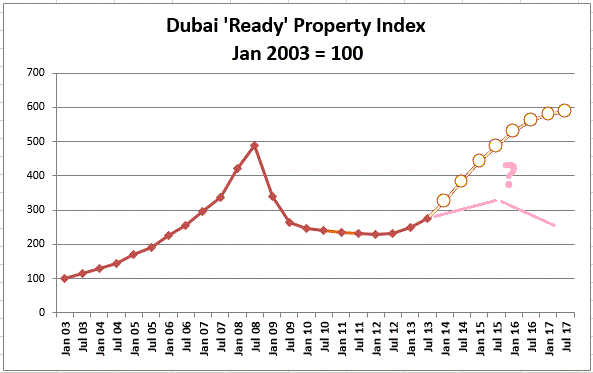 ==
> http://blog.openshor...hich-is-better/
Comment from above link:
Property in Dubai
As well as good rental yields for low cost properties, the capital growth in Dubai has been very strong with property prices almost doubling in past 2 years. (See the chart below – which shows relative pricing since 2003 and forecast pricing in yellow until 2017. After big falls in 2008 and stability for past 4 years, Dubai prices rose rapidly in 2012 and 2013). This capital growth has been the main reason investors have been currently buying in Dubai. Some plan to sell their properties in about 1 to 2 years' time, after benefiting from capital growth and then switch to a property in the UK!
Whilst Dubai is probably the most stable of the Middle East countries, many investors do not think that long term security is as good as the UK – thus they prefer the UK. The rapid growth over the past 2 years has also worried some investors that any bad news could result in Dubai prices falling again. Dubai property is now relatively expensive again. Our view is that there is unlikely to be another collapse in Dubai and property price growth will just slow down gradually but it is difficult to predict the future.
So which country is best for investment property?
The right property in both countries can deliver good rental yields – higher than 8%. These tend to be the lower cost commodity properties that are have high rental demand.
However, prices in Dubai are now quite high and if you are looking for good value and maximum long-term security – then the UK is unbeatable. By investing in the right type of UK property you could achieve similar returns to Dubai with much lower long-term risk.
On the other hand, most analysts still feel that capital growth in Dubai over the next 3 to 5 years will exceed that in UK and for that reasons it may still be a good investment. If such forecasts are fulfilled, the prices in Dubai could double from the current levels in 5 years.
========
DUBAI Property
- in AED per SqFt
Qtr : Prime : Average/ vs.High- for Ave.
'13 : 1,369 : 1,111 :
Q2 : 1,276 : 1,072 :
Q3 : 1,390 : 1,132 :
Q4 : 1,544 : 1,246 :
'14 : 1,689 : 1,369 :
Q2 : 1,784 : 1,449 / 100.0% - 0.00%
Q3 : 1,718 : 1,372 /
Q4 : 1,738 : 1,329 /
'15 : 1,702 : 1,294 /
Q2 : 1,453 : 1,260 / 86.96% - 13.04%
Q3 : 1,381 : 1,168 /
Q4 : 1,482 : 1,165 /
'16 : 1,468 : 1,143 /
Q2 : 1,443 : 1,153 / 79.57% - 20.43%
Q3 : 1,380 : 1,172 /
Q4 : 1,417 : 1,137 /
'17 : 1,452 : 1,172 / 80.88% - 19.12%
Another "old" forecast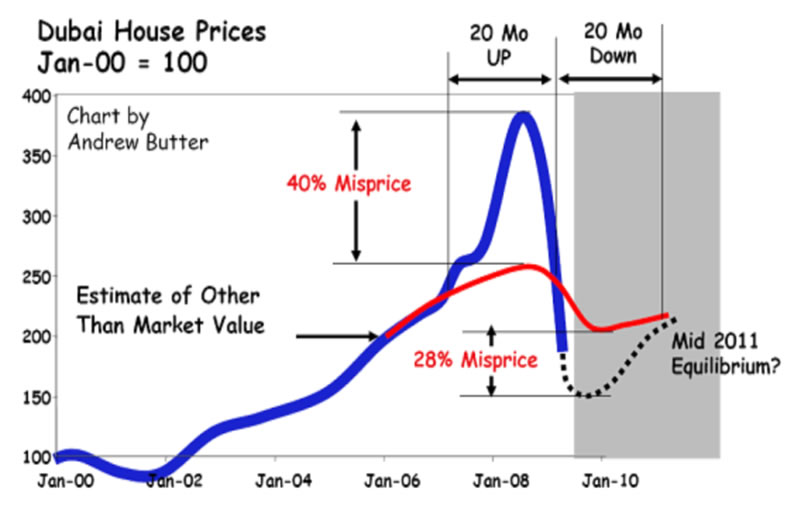 > source: http://www.marketora...ticle47433.html
=====
Dubai property agent : http://www.coralshoredubai.com/